Guess who was bored of their standard dark Asian hair?
Guess who wanted to go lighter but couldn't be bothered to deal with roots?
Guess who decided to layer and ombré their hair?
Guess who had the bright idea of doing it themselves?
Guess who was shit scared?
...
HAHA! YESSSSSS! ME! ME! ME!
My hair before with way overgrown layers and no dye.
Many people close to me know that I DON'T like my hair cut or touched by anybody. I don't care if you work at Toni & Guy or at some top hair salon, going to the salon is not therapeutic to me at all. Going to the salon to get my hair cut is like a child dreading to go to the dentist. Yes I have MAJOR trust issues with hairdressers. When I was younger, my parents would always take me to their regular hair salon in Chinatown. And when I always state that I'd only want like an inch or two taken off, I'd always walk out with more than what I'd ask for because my parents and the hairdresser would always pressurise me to get my hair cut shorter because anything above the shoulder is more 'convenient' and more 'manageable' (Asians man). So since my late teens, I've been taking matters to my own hands by cutting and dying my own hair myself.
OKAY! Enough with the rambling! Here you can see how long, straight and dark my natural hair was:
Taken on Valentine's Day.
Knowing that ombré hair looks better on layered hair due to the texture it would give, I followed the video that I have been following ever since I've started to layer my own hair and layered it. Here is Farah Dhukai's layer cutting tutorial:
https://www.youtube.com/watch?v=RLFBhCOVx4E
(Go check her out, she's brilliant and she makes the tutorial really easy to follow.)
After layering my hair, I used L'Oréal Féria Extreme Ombré in E02 Extreme Platinum Ombre for Blondes.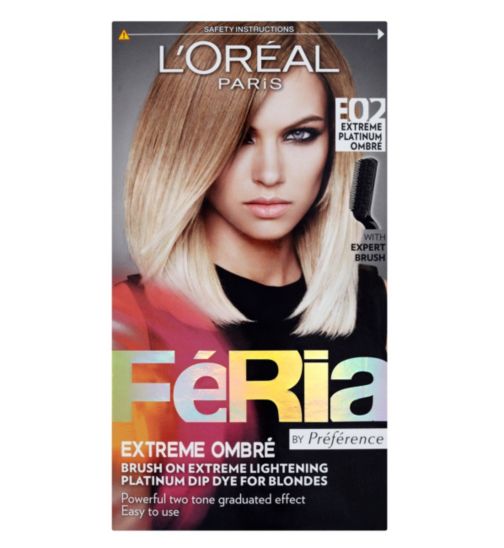 Okay so it doesn't take rocket science to figure out that my hair isn't blonde, but as you may or not know, dark hair especially Asian hair like mine needs 'lighter' hair dyes in the medium to light blonde range to get our hair to noticeably lighten.
What's inside the box?


Developer Creme


Lightening Creme


Lightening Powder


Brush/comb


Gloves


Conditioning Shampoo


Instructions
The Preparation


Find & wear an old T-shirt or a top you don't mind destroying.


Cut up some aluminium foil, any kitchen ones will do fine.


Put an old towel around your shoulders to prevent product getting onto your skin.


Comb through hair to detangle & then part your hair how you normally part it.


Section your hair into two & bring it forward to your front.


Analyse, Analyse, Analyse. Determine how far you want your ombré to start & end.


Put on the almighty big black gloves, mix the mixture vigorously & then you're ready to go!
The Application (This was how I did it. You can alter it to your preference)


Hold the brush horizontally and apply the product to the bottom two inches of your hair. When you reach where you want your lightest part of your ombré to end, make sure you hold the brush horizontally and comb through that part so that the colour blends and prevents looking blocky.


Carefully wrap the foil around your hair. This will enable heat to be retained, meaning that it'll help saturate the colour into your hair and speed up the process.


Leave for 10 mins. After 10 mins, check the colour and see if you're happy with the colour. If you want it a bit more lighter, leave on for another 5 minutes.


Wash off product with warm water. Do NOT use the shampoo conditioner.


Blow dry hair.


Repeat everything from part 1 but this time bring the product higher up to your collarbone or just under your chin. Remember to hold the brush horizontally when you reach the part you want the ombre to end.


(Optional) Add product to small strands that frames the face.


Wrap hair in foil again.


Leave hair to 'cook' for 30 minutes. Keep checking in between to see if your desired colour is ready. If not, leave it for the full 30 mins. (DON'T go over 45 mins with the overall process as it could seriously damage your hair due to the bleach.)


Wash hair with the shampoo conditioner provided, air dry/blow dry and Voila!
Hair Toning
As my hair was virgin dark brown/black, the ombré lightened my hair very well but the colour also turned pretty brassy. To tone down the orangey look, I used Clairol Nice & Easy 9A Natural Light Ash Blonde to neutralise the brass. If you are looking to tone down your ombré hair, make sure you buy hair dye with the word 'ASH' in it. If you have virgin hair before the ombré, make sure you buy hair dye that contains ammonia in it as ammonia forces your hair to accept the pigment. Virgin hair needs that strong chemical in the dye to colour properly because natural hair colour would be too stubborn to lift if the hair dye was ammonia free. Yes this is an overall hair damaging process, so you really do need to invest in haircare products after ombré-ing and toning your hair.
This is the hair dye that I had used to tone my hair after ombré.


Prepare your hair dye mixture by following the instructions that comes in the box.


Part your hair the same way that you did when you did your ombré.


Apply mixture over your ombré but where your ombré ends, bring the dye two inches higher. This creates and ensures a more gradient effect from your ombré to your natural hair colour.


Wrap hair in foil again and leave for 35-40 minutes.


Wash off and condition hair with the conditioner the box dye provided.


Voila! Brass-free ombré hair!
Straight ombré hair back view.
Straight ombré hair front view.
Curly ombré hair back view.
Curly ombré hair side/front view.
So there you have it! I really love how my ombré turned out with my new shorter layers. I was a bit unsure at first on whether I liked it or not due to the difference. But trust me, all it needs is a day to get used to and you'll end up loving it! I really do recommend the L'Oréal Féria Extreme Ombré if you want to ombré your hair at home though because it is really easy to use and it saves you a hell of a lot of money compared to the salon prices! I think I want my ombré lighter the next time I do it, so I might blog or film a tutorial if you guys are interested :)
What do you think of my new hair? If you guys have any questions about ombré-ing your own hair at home, just let me know and I'll try to answer as much as I could. x